Showers and Tubs:
Generally the most significant (and expensive) consideration in accessibility related bathroom remodeling involves showering/bathing accommodations. While some users insist on retaining a bathtub, the majority opt for tub to shower conversions for practical and financial reasons. For shower decisions related to accessibility, we return to the question of how the user will enter the shower.
Will the user be entering the shower in a wheelchair? (as opposed to transferring to a shower chair or bench.)
(YES): If the answer is "yes", then a roll-in shower is greatly preferred; that is, a shower with no threshold. When a wheelchair is used in a shower, both the elimination of an entry threshold and the size of the shower become important considerations. Shower thresholds are in place to contain water, so their elimination naturally raises the question as to how water will be retained in the shower, and this is perhaps the greatest challenge to zero-threshold showers. Generally, this is accomplished through one of two ways (or a combination of both): floor slope and size and a collapsible water dam. The water dam, shown below on the Best-Bath shower, is a flexible rubber piece that attaches to the shower base surface and can be stepped on or rolled over. When used in combination with a carefully placed heavy duty shower liner, it can be effective in retaining water.
Both methods of water containment rely on a carefully constructed slope toward the drain. Slopes that become too steep are a safety threat to shower users while slopes too gradual may not allow water to drain properly which is a serious problem in a zero threshold shower. Proper drainage and usability means that overall shower size is very important in zero threshold showers. Generally speaking, it would be best if this shower is at least 60" wide and 36" deep (front to back). If leg extensions are used on the wheelchair, the 60" width is absolutely necessary – and even more width is desirable, even if just several more inches for clearance.
(See roll-in shower photos below) – Best bath shower/ tile shower
If the wheelchair user is not entering the shower in a wheelchair then presumably the s/he will be transferring to some sort of shower bench or chair; or even in rare cases, standing in the shower. In this event, an important follow-up question in this situation is:
"Is the user able to negotiate a 4" threshold easily and safely." (This means, can the user can safely step or lift legs over a 4" threshold)
(YES): If so, a zero threshold shower is probably not required, and this can be beneficial from the standpoint of cost, product availability and water containment in the shower area.
(NO): If the user can't safely lift legs over a 4" threshold then either the roll-in type shower described above will be required without some ongoing form of assistance.
Roll-in shower-custom tile Roll-in shower- (Best-Bath)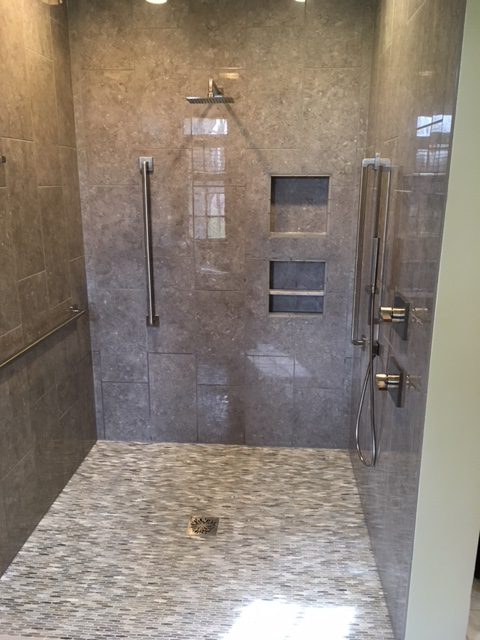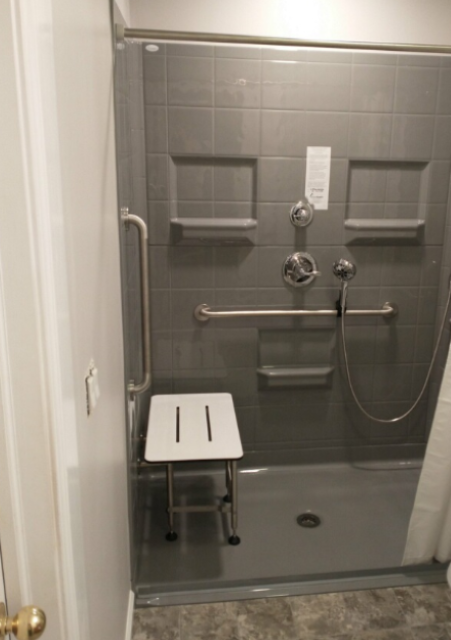 While a 60"x36" shower size is desirable in many cases, if the user is highly independent, a 48" shower may be fine, but the 36" depth – or at the least 34", should be maintained for the user's comfort and to help ensure water containment. Water containment remains an issue even with curbed (showers with thresholds) since generally shower doors are discouraged in accessibility remodeling due to the fact that limiting access to the shower, forcing entry through a tighter space is not encouraged for those with any sort of mobility challenge. This means that water containment will rely on a shower liner/curtain system, so a high quality, weighted shower liner is highly recommended.
While roll-in or step in showers are attractive (and effective) replacements to bathtubs, a significantly less expensive option is the tub-cut away. A tub cut kit (photo below), effectively converts the current tub to a shower with a step in height of about 7″ (depending on original tub height). The finished step is durable with a slip resistant finish for a nice transition from the bathroom floor to tub floor. This option, especially when combined with a well placed grab bar, can be quite helpful to those with mobility challenges and usually installed for less than $1,000. It is important to note that this is a permanent conversion and that the bathtub cannot be used as a tub again.